Today's TLC Book Tour stop looks behind a classic twentieth century American painting for the story of its intriguing subject. I'm reviewing A Piece of the World, a novel by Christina Baker Kline and accompanying my review is a recipe for Fried Apple Stove-Top Skillet Cake, inspired by the book

.
Publisher's Blurb:
From the #1 New York Times bestselling author of the smash bestseller Orphan Train, a stunning and atmospheric novel of friendship, passion, and art, inspired by Andrew Wyeth's mysterious and iconic painting Christina's World.
"Later he told me that he'd been afraid to show me the painting. He thought I wouldn't like the way he portrayed me: dragging myself across the field, fingers clutching dirt, my legs twisted behind. The arid moonscape of wheatgrass and timothy. That dilapidated house in the distance, looming up like a secret that won't stay hidden."
To Christina Olson, the entire world was her family's remote farm in the small coastal town of Cushing, Maine. Born in the home her family had lived in for generations, and increasingly incapacitated by illness, Christina seemed destined for a small life. Instead, for more than twenty years, she was host and inspiration for the artist Andrew Wyeth, and became the subject of one of the best known American paintings of the twentieth century.
As she did in her beloved smash bestseller Orphan Train, Christina Baker Kline interweaves fact and fiction in a powerful novel that illuminates a little-known part of America's history. Bringing into focus the flesh-and-blood woman behind the portrait, she vividly imagines the life of a woman with a complicated relationship to her family and her past, and a special bond with one of our greatest modern artists.
Told in evocative and lucid prose, A Piece of the World is a story about the burdens and blessings of family history, and how artist and muse can come together to forge a new and timeless legacy.
This edition includes a four-color reproduction of Andrew Wyeth's Christina's World.
Publisher: William Morrow (February 21, 2017)
My Review:
This book caught me by surprise with how absorbing it was and just how much I liked it. I ha

ve

read and enjoyed Christina Baker

Kline's previous books

with the big exception of her most well-known, The Orphan Train (don't ask me why--I have a copy that never seems to quite make it to the top of my TBR pile), so I

expected

to find a

well-told

story, but it was so much more. I remember first learning about the painter

Andrew Wyeth

in an art history class and

was

intrigued by his realist style and

his

moody and evocative paintings--arguably the most famous being Christina's World--so I had an interest in slipping into the story

behind the artwork

. As a child, Baker Kline was given a woodblock print by her father that was ins

pired

by the painting and in A Piece of the World, she imagines what the

life of the model was like.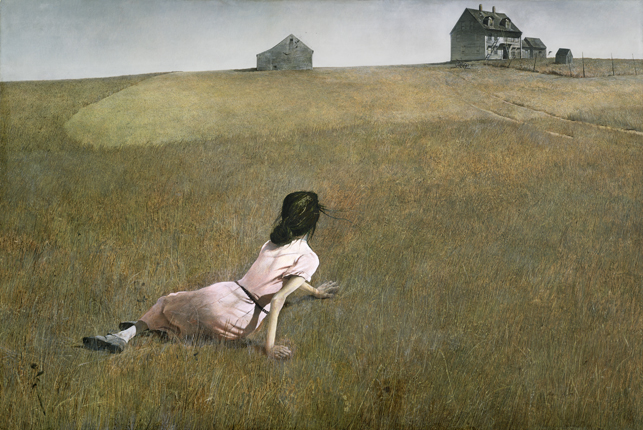 "Christina's World

" by Andrew Wyeth,
r

eprinted
from an article by Hannah Kim, Inside/Out.com and

The Museum of Modern Art
The book is set in

Maine from the early 1900s through the late 1940s

and tells both o

f the life of

Christina Olson

,

the subject behind

the

painting

--

as well as her relationship with Andrew Wyeth, who spent several years visiting the Olson farm and painting the scenery, Christina and her brother

, and forming

a relationship and a friendship with them. The story is told from Christina's point of view and goes back and forth in time from her childhood and the illness (thought to be
Charcot–Marie–Tooth disease

)

that left her with deteriorating bones and joints to her adult life and the visits from Wyeth. Christina's world is small and for the most part contained in the family home and farm

and

she is bitter and not always easy to like--although it is easy to understand why when you consider how some of her choices were made for her by her parents and of course her health. She is a strong and independent character and the way that the author tells her stories--the bright moments, the sadness, and all of the small details is beautiful and engaging and had me wanting the best for her. The Maine setting, details about Wyeth's painting and Christina's family history (connected to the Salem witch Trials) are interesting and Baker Kline'

s words

bring it to life in vivid detail.

I thought it might be a slow, too-languorous read but I found it hard to put down and I was sorry when I finished this remarkable tale. Highly recommended.
-----
Author Notes: Christina Baker Kline is the author of five novels. She lives outside of New York City and on the coast of Maine.
Find out more about Kline at her website, connect with her on Facebook, and follow her on Twitter.
-----
Food Inspiration:
There is food aplenty in A Piece of the World--mostly homey food that fits the time periods in the story. There are clambakes, eggs from the family chickens, a picnic lunch of egg sandwich on thick-sliced bread, a cucumber, and two pieces of fried apple cake, bread, porridge, dry oatcakes, chicken pie, pot roast, fish stew and chowder, potatoes-boiled and mashed, peas or carrots, casserole or stews, tea and fresh-squeezed lemonade, split pea soup with ham and

chicken

soup,

Swedish bread called
svartbröd, with salmon and sour cream and a fried potato cake called raggamunk, and lingonberries, a meatloaf sandwich, sliced thin on bread with butter, sandwiches of butter and molasses on thick sourdough bread, cottage cheese, bread, cheese and hard boiled eggs, butterscotch candies, drop biscuits, canned and pickled vegetables, jam and preserves, suckling pig roasted in a pit in the yard, stewed apples and dried-blueberry cake, chicken stew with squash dumplings, a New Year's drink called a Whaler's Toddy of rum, molasses and cloves in a mug with boiling water, blended with a cinnamon stick, oranges from Florida, chipped beef and noodles, sliced turkey and ham, pickled beans and beets, gingerbread cookies, strawberry, blueberry and wild rhubarb pies, fried chicken, and appetizers of red radishes, deviled eggs and green olives with pimento.
For my book-inspired book, I knew it had to be a version (at least of of sorts) of the fried apple cake that Christina is 'famous' for

as it i

s mentioned

several times throughout

the book.
"She wants to know my famous fried apple cake recipe and I explain it step by step: how you peel and thinly slice the apples, fry the slices over a low flame in a heavy black skillet, adding a stream of molasses until the apples are soft in the middle and crispy on the edges, then turn the skillet over onto a platter. (I don't tell her that I can no longer turn the skillet on my own and have to ask one of my brothers to do it.)"
From the description

, Christina's cake

sounds more like a scalloped sort of apple dish that ends up in a cake-like form as there is no mention of anything beyond thinly-sliced peeled apples and molasses. I looked online for fried apple cake but couldn't find anything that sounded like that. What did pop up were a few stack and skillet cakes--most of them started on the stove and then finished in the oven

--

but a couple I found were cooked entirely on the store in a skillet and that's what I decided to make. I am sure it isn't the cake that the author intended but it intrigued me.

Since

I was craving cake

,

I don't love the flavor of molasses, and I wanted to see how well it would turn out

--

I decided to give it a try.
I picked this Apple Skillet Cake recipe from Christy Jordan at SouthernPlate.com and I made just a few small changes. I also reduced the amount to fit into my small frying pan--not needing a big cake sitting about. My changes and the amounts I used for the smaller pan are below--you can follow the above link to the site for the original recipe and steps.
Fried Apple Stove-Top Skillet Cake
Adapted slightly from SouthernPlate.com
Apple Topping:
1/4 cup butter or margarine
1 tsp cinnamon
1/2 cup sugar
3 apples of choice, peeled and thinly sliced (I used 2 Honeycrisp + 1 Granny Smith)
Cake:
1/2 cup self-rising flour
1/4 cup sugar
1 tsp cinnamon
1 pinch salt
2 Tbsp butter, melted
1/4 cup evaporated milk
1/4 cup apple juice or water
1 egg
To make apple topping: Melt butter in a small skillet over medium heat and stir in cinnamon and sugar. When mixture liquefies, layer in apple slices. Cover skillet and cook over medium heat for 10 minutes--until apple slices have softened.
Meanwhile, stir together flour, sugar, cinnamon and salt in a small bowl until well mixed. In a separate bowl combine melted butter, evaporated milk, apple juice (or water) and the egg and mix until the egg is well-beaten. Add liquid mixture to flour mixture and mix just until just moistened and combined.
Reduce heat on apples to low. Carefully spoon batter over the apple slices in the skillet as evenly as possible. Cover pan and cook on low for 20 minutes, until cake is firm to the touch and a toothpick inserted into the center comes out clean.
Remove cake from heat and allow to cool for a few minutes. Carefully turn over onto a serving plate and serve warm. Enjoy!
Notes/Results:
I was really happy with how this cake turned out--perfectly moist and full of sweet cinnamon and apple

flavor

. I wasn't sure if it would have the texture of a more pudding-like steamed cake or an oven-baked cake and was happy it was the latter. Mine puffed up quite a bit--you can see in the collage photo above

and

you can see that it has a nice moist crumb to it. Things would have been perfect if I had not lost confidence in turning it over onto the small plate I wanted to use. I thought it would be easier to transfer it to a

dinner

plate and then carefully move it to a serving plate and that ended up being my

undoing

as because as careful as I was, using two large spatulas/pancake flippers, my cake broke and I lost the side. I had no problem eating the edge that came

off and the rest sliced up just fine. Next time, I'll flip directly onto the plate I plan to serve it on. ;-) And there will be a next time. I am a fan of anything apple and this cake was delicious. I will definitely make it again.
I'm linking this post up to the Weekend Cooking event at Beth Fish Reads, a

weekly

event that is open to anyone who has any kind of food-related post to share. For more information, see the

welcome post

.
Note:
A review copy of the "A Piece of the World" was provided to me by the publisher Harper Collins and TLC Book Tours. I was not compensated for this review and as always, my thoughts and opinions are my own.
You can see the stops for the rest of this TLC Book Tour and what other reviewers thought about the book here.